Storrington Museum Archives - Gliding over Amberley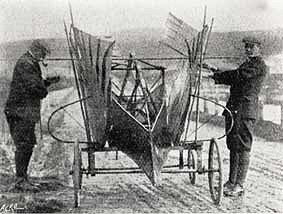 The Storrington area's unexpected place in the history of flight was established well over 100 years ago on the South Downs overlooking Amberley. The man responsible was French-born José Weiss, whose glider 'Olive', performed the first recorded unpowered soaring flight, on 27th June 1909.

José Weiss was born in Paris in 1859. His job, in the wine trade, brought him on frequent visits across the Channel. On one of these visits, he stayed on for a few days in Amberley. He was a keen amateur painter, and managed to sell a landscape of the Amberley countryside through a London gallery, for £12. This convinced Weiss that he could make a better living as an artist than as a wine salesman – a correct assumption as he went on to become a noted landscape painter, exhibiting at the Royal Academy and selling works worldwide. He married and settled in the area, first in a cottage opposite Amberley Station, then moving to Houghton House (where an even more famous artist, Arthur Rackham, would later make his home.

He became fascinated by the flight of birds, and built model gliders to try and discover how birds could maintain stable flight. The gliders took the form of model birds, and Weiss's models won prizes for the longest flight at an exhibition in Paris in 1905, and attracted great interest at home. The models, made of bamboo (later steel tubes), muslin and paper, simulated soaring birds of prey and one was claimed to have managed a free flight of half a mile. Weiss discovered that by changing the angle of the leading edge of the wing, the flight could be controlled, and the addition of carefully placed lead weights actually improved the performance, rather than the extra mass hampering the flight.

The 'birds' were initially launched by hand from Houghton Hill, and as they grew larger and heavier Weiss built a launching ramp on Bury Hill. Weiss's gliders came to the attention of the War Office, and in 1908 an aircraft engineer, Frederick Handley Page, bought the rights to use Weiss's patented wing design and investigated the possibility of adding power to the gliders. The first, the 'Flying Albatross', of bamboo construction and powered by a motorcycle engine, was unsuccessful, as was the second, 'Madge' (after one of Weiss's daughters), though later Weiss-Page collaborations managed to fly.

By this time, Weiss felt ready to build a glider capable of carrying a man. 'Olive' (after another daughter) had a 26ft wingspan had no tail or rudder, but could be controlled to some extent by flaps at the root of the wing. Several flights were attempted in late 1908 and early 1909, with various pilots including Weiss himself. It was on 27th June 1909 that 'Olive', piloted by a 17-year-old boy named Eric Gordon England (who would later become a notable figure in aviation and motor racing) took off into the wind from Amberley Mount, rose to a height of 30-40ft and descended gently to land safely in the valley. This half-mile flight, lasting just under a minute, went into the record books as the first ever 'soaring flight' made by a glider – and the distance and height remained a record until after WW1.

Encouraged by 'Olive's' success, Weiss enthusiastically embraced the idea of powered flight. He gave a talk in November 1909 to the Storrington Social and Literary Society, in which he was quoted as saying that in less that ten years, it was possible that aircraft, fitted with wireless telegraphy, could take 50-100 passengers over to Paris, or even across the Atlantic. The Duke of Norfolk gave Weiss permission to use Littlehampton Fort as a base. Weiss and his associates continued their experiments on the nearby sands, later transferring to Brooklands, in Surrey.

Both 'Olive' and 'Flying Albatross' are thought to still be in existence, though their whereabouts are unknown.